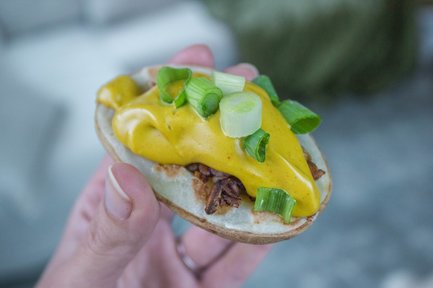 Makes 12 potato skins

Ingredients
6 medium sized russet potatoes
One batch of
Tempeh Bacon
One batch of
Queso Cheez
(I used less chipotle pepper in this batch for a milder flavor)
6 large white mushrooms, sliced into small pieces
1/4 broccoli head, cut into small pieces
4 green onions, chopped into small pieces
Method:
Preheat oven to 475 degrees. Cut potatoes in half and scrape out centers. Place on baking tray and bake for 7 minutes on each side.
Heat pan on medium heat and put a tbsp of olive oil in pan. Grill the tempeh slices until brown on both sides. Take tempeh out of pan and set aside.
After tempeh is cooked and removed from pan, add sliced mushrooms and broccoli to pan and cook until broccoli is bright green.
Crumble tempeh pieces into cooked potato skins. Put broccoli and mushrooms in potato skins. Cook potato skins with toppings for five more minutes.
Add queso cheez to potato skins. Top with green onions and serve. Enjoy!